Dozer
Lead Vocals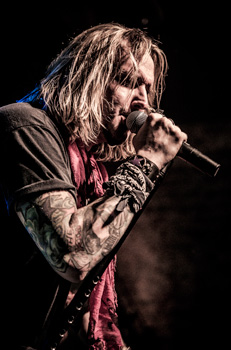 Meet your lead vocalist, Jay Dozer.  He started out singing at 16, around 1991.  Seeing Queensryche in concert changed his life.  From then on, he HAD to sing.  He moved from cover songs to originals for a while, before returning to covers, finally forming a working cover band "Mr. Burns" in 2002.  Nearly 4 years passed with this band, before he decided to form his own band, and find the proper musicians to make it happen.  Now, with Moby Dick, he's helped deliver the ULTIMATE cover band to Atlanta!
Along the way, he's developed an extremely versatile voice, which has helped him front tribute bands to Bon Jovi, Stone Temple Pilots, Def Leppard, Guns N Roses, Journey, and Poison.  He loves to emulate each singer that his band covers, which pushes the band's delivery right over the top!
Also a machinist, he's made custom mic stands for his tribute bands, and also for major recording artists Lady Antebellum, Marilyn Manson, Dream Theater, Overkill, Fates Warning, and many other bands all over the world, from USA to Europe, to Australia and Japan.